Today is public sector industrial action day here in the UK. No good teacher ever takes the decision to miss a day teaching lightly however, for the sake of the future of education, which is far more important than our own (rapidly decreasing) pension we have both chosen to support the strike action.
This article from the guardian online, written by a state secondary teacher in north London, says everything I want to say.


I'm going on strike to make you show teachers some respect, Mr Cameron
If the government wants to attract the best graduates to teaching, it must prove to them that they are valued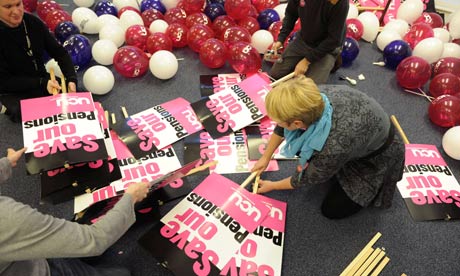 As a teacher, I'm always a bit cagey when someone mentions time off. I have been doing my best to avoid any conversations about tomorrow's strike for the fear of the familiar retort: "Because that's what teachers need isn't it? Another day off!"
Teachers are constantly vilified as an inefficient and ineffective bunch, more interested in coasting to a comfortable retirement than unleashing the potential of the young talent of this country. But I firmly believe that this campaign is not just about how well-off I will be in my autumn years. It's about fostering respect for our profession, it's about ensuring that teachers are valued.
I doubt anyone would argue with the assertion that successful societies need successful education systems, and these need good teachers. But bright and dynamic people require some incentive to enter the profession: a bit more respect would help.
There's an awful lot of teacher-bashing about: it seems every ill in society has its roots in our "failing" state schools; even the August riots have been blamed, at least in part, on us.
Respect for teachers and teaching has dwindled in the last 20 years: not just in the media but in the minds of our peers, parents, students, even ourselves. I delayed entering the profession for fear that I might have "settled" for it.
One way for the government to attract talent to teaching is through good pay and conditions. It sends a signal that this profession is important, that the people we have slogging their guts out in our schools are worth investing in.
The new pension proposals will have a serious impact on the financial future of teachers: we are expected to pay more out of our salaries now to get less out of the pension pot in the end.
Remember, teachers do not operate in a market place. Terms and conditions are set by the government. Good teachers can't negotiate a better pension deal elsewhere. We are stuck with what the government offers us. So that offer needs to be attractive.
Yes, Mr Cameron, industrial action will be disruptive, but then that's the point. It's time you all sat up and took notice of us. We really are that important.
Posted by
Kate Treacy Tuesday 29 November 2011